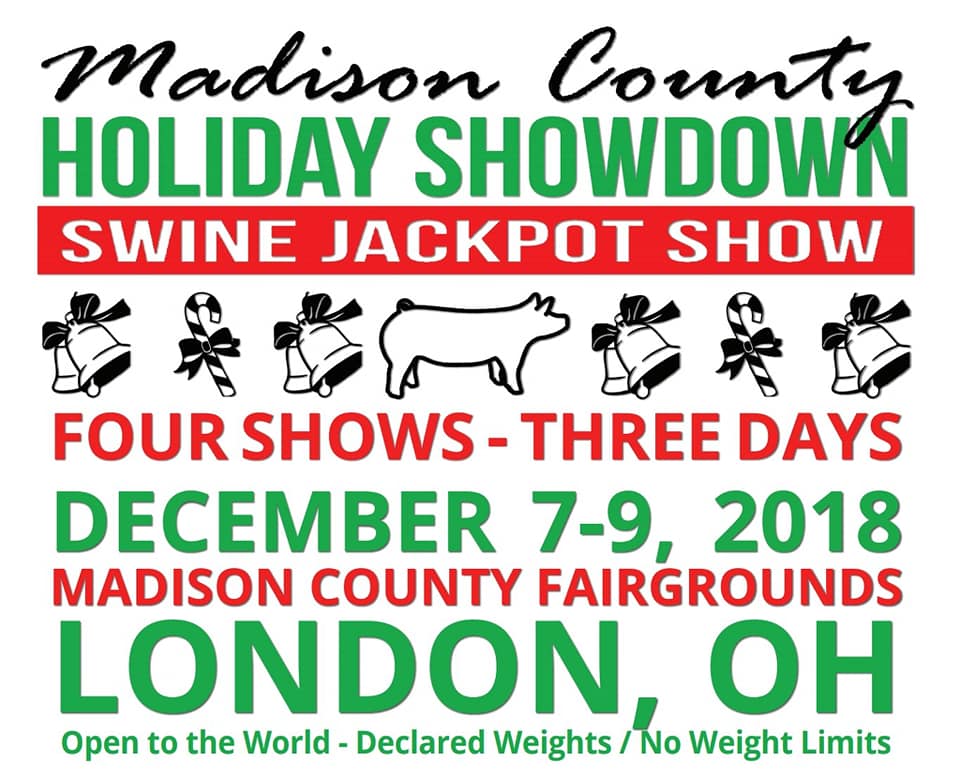 2018 Holiday Showdown
2018 Holiday Showdown is planned for December 7th thru 9th.
4 shows in three days

Schedule:
Friday 8pm - Breeding Gilt Show and Market Show.
Saturday 11am - Double Down Breeding Gilt Show and Market Show.
Sunday 9am - Showmanship followed by Breeding Gilt Show and Market Show.
Barns open Friday December 7th at 8:00am
Pens are first come-we will not assign pens- two pigs per Pen
Friday Show 8:00pm $10 entry for "Friday Night Lights "
Entry Fees for FRIDAY's Show will be paid out to only Grand/Reserve Gilt and Grand/Reserve Market Hog.
Saturday's Show is a double down Ring A and Ring B
Saturday show theme " Ugly Christmas Sweater "
Toy Drive will start Saturday morning- for every new unopened toy you get your name in a drawing- winner will be chosen at 1:00 on Sunday by the London Fire Department
Silent Auction will take place Saturday Morning until Sunday at 1:00- winners will be announced
Showmanship Sunday morning- 2 rings - will compete for overall showman
Sunday show will take place following Showmanship starting with breeding then Market -1 Ring
Saturday and Sunday shows class payouts and banners for top 5 breeding and top 5 market- payouts for top 3 of each
Checkout our Facebook page for more details.